brendan.oshea Flickr Pro User was kind enough to share the photo retouching secret to this gothic effect look in photoshop by using Unsharp Mask tool and overlay blend mode technique.

Here is what Brendan.Oshea had to say about this method:

I've done this on a few of my other photos Jimmy, and I've documented the process in one of the shots I've posted previously. It involves cranking up the radius slider in unsharp mask more than the amount slider. (opposite of what you'd usually do) desaturate a little, then repeat until it starts to look too silly.

Sometimes I'll get one of the channels, paste it into a layer and use overlay mode to desaturate. Depends on the image.

To tell the truth, I usually only use this technique when I want to hide technical flaws. Unfortunately, I use this technique alot. The lighting is critical though, and it just doesn't work unless I use this particular style of lighting.

Single Sunpak 383 Super on full power, newly acquired shoot thru 28" umbrella, triggered with Elinchrom Skyport.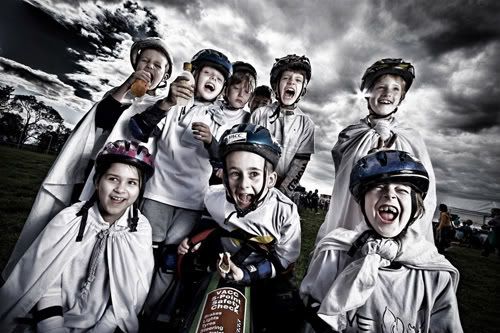 Im in search of the Manny Librodo photoshop retouching technique, and this might be one of the secret ingredients as to how Manny comes up with his stunning photoshop effects. Manny is smooth and subtle when it comes to photoshop effects, and this is more deliberate, but effective. I'll talk more about my Idol in the upcoming articles... I can't wait!